Contributor and Bing Chief Evangelist Christi Olson kicks off a multipart series on Bing webmaster tools. If you are new to Bing's webmaster toolset, this detailed guide will get you started and on your way to better rankings on Bing.
If you are a website owner, you've invested a lot of time and resources to create your site. Once it's become active, you want everyone to see and find your site when they search on Bing.
There is no cost to be added to our search results. Bing explores the internet with a crawler to find web pages and includes them in our search index. While Bing crawls billions of pages each day, the internet is constantly growing, so our crawlers are always hard at work looking for new content to add to our index.
To help webmasters get and keep their sites on Bing, we offer our Bing Webmaster Tools (BWT), a free toolset you can use to submit your site to Bing and Cortana and also monitor the health of your site. Bing Webmaster Tools helps webmasters identify and understand any problems a site may have so that errors can be fixed and web pages can be optimized.
Starting today, we are kicking off a series of articles that will do a deep dive into Bing webmaster tools. If you are new to Bing's webmaster toolset, this detailed guide will help you get started and on your way to better rankings on Bing.
Who should use BWT?
Anyone who owns a website or who has a vested interested in how a website performs would benefit from using Bing Webmaster Tools. This could be the business owner, their site admin, a digital marketer or website developer. Bing webmaster tools will help monitor and maintain a site's presence on Bing.
In the decade I've been working in search, I have been an agency search engine optimization specialist (SEO), the in-house SEO and the paid search manager for both Microsoft Windows and Harry & David. I have worked on hundreds of local and small business websites as well. In all of the digital marketing positions I've had, I have used Bing's webmaster tools as my guiding light for monitoring my organic search performance.
You don't have to sign up for BWT to be included in the Bing search index, but the toolset will provide insights on your website's visibility so you can optimize it to improve rankings, engage with customers, drive sales and generate leads on Bing.
Why use BWT?
Webmaster tools let you monitor and investigate the overall health of your website and shows how Bing and your customers are finding your site.
You can access in-depth reports including the search queries driving traffic to your site, the impression and click volume of those queries and which websites are linking to your site. You can also:
Monitor your website's performance.
Configure how Bing crawls and indexes your site.
Submit your website to be crawled.
Remove content you don't want to be indexed.
Disavow links.
Monitor and resolve potential malware or spam issues.
All of this information helps you understand how Bing is viewing a website and its content so you can determine if adjustments need to be made.
For example, if I have a personal website about my experiences as a mom raising a rambunctious toddler, but all of the search queries driving traffic to my site are related to recipes, I probably have an issue with the content on my site I need to address.
Or, if my site ranks well and generates a high number of impressions but gets very few clicks, it could mean my titles and descriptions might not be compelling because they aren't driving people to click. Webmaster tools provide you with comprehensive reporting in addition to SEO analysis so you can make better decisions on how to optimize your website.
More from the Ultimate Guide
BWT insights
Even if you are using Google Search console, you should add Bing webmaster tools to your SEO toolkit to provide you with additional data and Bing specific insights. It's important to identify the opportunities to rank well on Bing, and our webmaster tools will help with this.
Who uses Bing?
Bing is the second-largest search engine in the US, and it has a diverse audience. According to statistics released by comScore in March 2018, there are 145 million unique searchers on the Bing network. That is roughly one in every two people in the US, conducting more than 6 billion monthly search queries on Bing.
In the United States, Bing has 33.8 percent desktop market share and reaches approximately one in 45 people across all devices.

Bing has more than doubled its market share since launch, and that share has increased for six years straight. In the US, Bing reaches 66 million searchers who are not on Google.
Internationally, searchers on Bing conduct over 20 billion searches monthly, and Bing has impressive search share in more than a dozen markets including the UK (19 percent), Germany (13 percent) France (19 percent), Australia (12 percent) and Canada (16 percent.)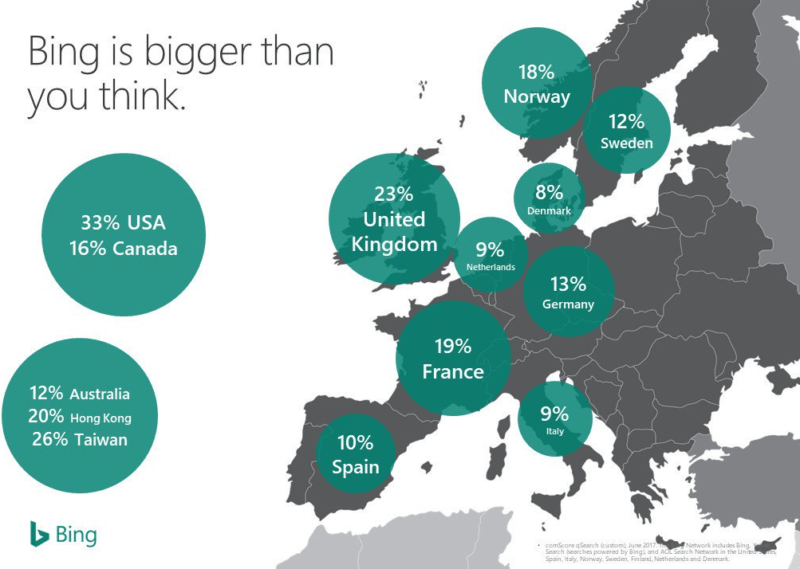 Here are some stats about the 145 million unique searchers Bing has and who they are. The audience on Bing is pretty diverse; nearly half are under 45 years old, split evenly between genders, and are married.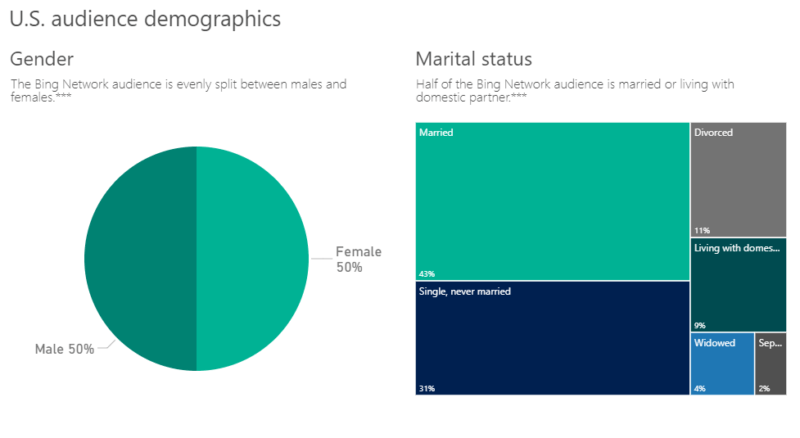 Roughly 30 percent of the searchers have a college degree and a household income over $100,000.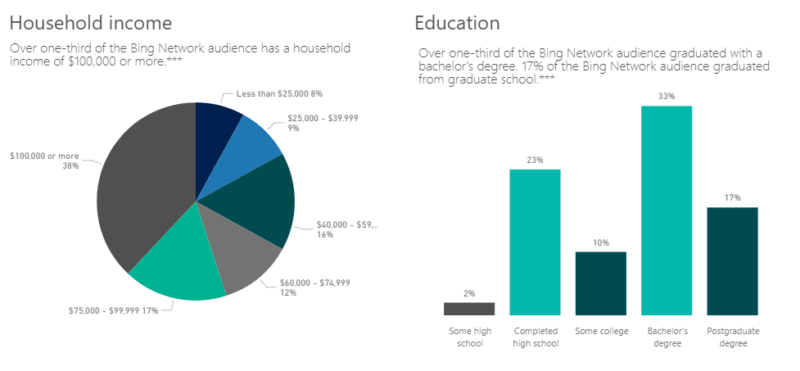 Getting started with Bing Webmaster Tools
Setting up shop is quick and easy in Bing webmaster tools. You can do it in three simple steps:
Step 1. Sign into BWT.
A new feature we have is the ability to log into your BWT using a Facebook or Google login.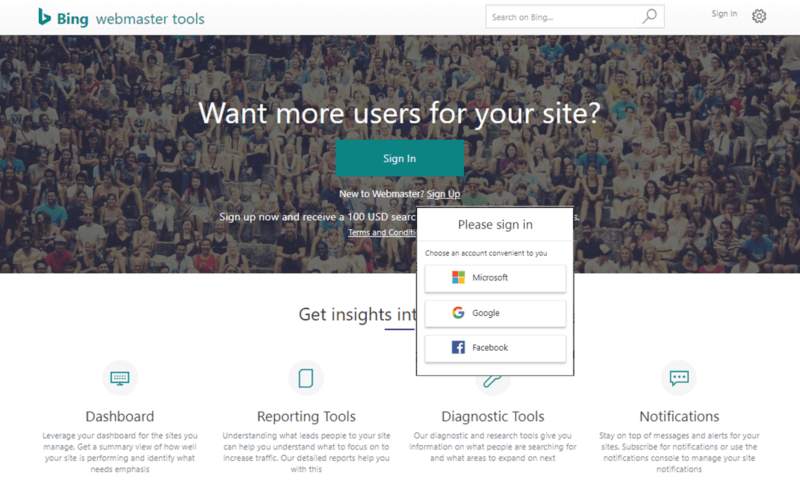 Step 2. Add your site.

Step 3. Verify ownership of your website.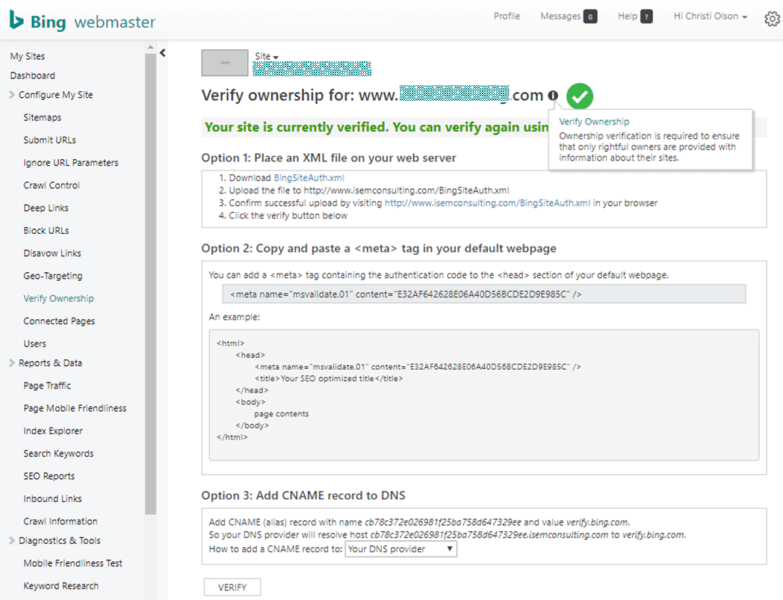 If you are having issues verifying site ownership, Bing offers free help and support. Complete the form, and a member of the support team will contact you.
The final step to getting started, although not required, is to create and upload your sitemaps to Bing.

If you already have a BWT account, you add users and give them different levels of permission. From BWT:
It is always a good idea to have multiple Administrators for corporate accounts. This protects the integrity of the account should one of the Administrators take on a new job or leave the company.
Bing Webmaster Tools has a lot to offer. Are you ready to dig in to learn more? In next week's post, I will break down the MySites, Dashboards and Configure My Site sections of Bing webmaster tools and include an overview of each.